Our Vision and Values
Educational Philosophy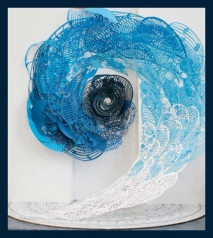 The aim of Skipton Girls' High School is to provide an education for our highly able learners which enable them to grow and learn as individuals, to take responsibility for their own learning and to be curious about the world around them.
As school leaders we will:
Lead an innovative, dynamic and academic environment which is not constrained by gender stereotypes
Prioritise Inclusion, equality and equity and place these at the heart of our learning community
Collaborate and partner within and beyond the school. Continue to build and embed the commitment to work beyond SGHS and promote System Leadership within an inclusive school-led system.
Deliver strong communication to all stakeholders
The ethos of Skipton Girls' High School is that all girls:
thrive in their learning environment
engage positively with new experiences and understanding
develop self-regulation, self -awareness and respect differences and treat one another with justice, tolerance and respect at all times.
develop a growth mind-set and manage change confidently
foster leadership and are encouraged to make a positive contribution to our school and local, regional and national community.
---
Enrichment/ Extra Curricular Activities
Skipton Girls' High School provides, values and encourages participation in a wide range of extra-curricular activities tailored to meet individual interests, including Art and Design, Language clubs, Film Clubs, charity and community work, dance, drama, music and sport and Duke of Edinburgh trips.
---
Pastoral Care
Skipton Girls' High School provides a strong system of pastoral care designed to provide support, guidance and confidentiality, and to promote the happiness, wellbeing, health and safety of all girls.
---
Inclusiveness
Skipton Girls' High School highly values the inclusive nature of the school and its multi-cultural character, and promotes respect and understanding between students of different races, faiths, beliefs, cultures and backgrounds. Skipton Girls' High School believes in the importance of the student and parent/ carer voice and actively seeks stakeholder feedback through many different means including our Parents in Partnership Group and Student Voice.
---
Teaching and Professional Development
Skipton Girls' High School seeks to recruit, retain, grow and develop the best staff because of its reputation, the supportive environment and opportunities that it offers. As a lead school for Northern Lights Teaching School Alliance and Northern Lights SCITT we are able to provide excellent professional development and high quality training opportunities for teaching staff within the school itself and with partner schools across and beyond the alliance.