What Makes Us British?
SGHS students have taken part in a form competition organised by Global School's Co-ordinator Mr Hoyle.
We have been working for the past 10 months on cultivating a relationship with a school in India called KC School Jammu. As part of this process Mr Hoyle applied to the British Council to fund an exchange visit so that teachers could find out more about each other's school and help with the establishment of effective projects between our schools that enhance students' learning.
The council granted our funding bid and Mr Hoyle flew to India on the 14th of May for a week. To coincide with this the two schools have both been working on what they think best represents their country and also what they think might represent the other country too. We called this competition "Britain/India in a Box." There were some fantastic entries and some of the best can be seen in the picture below. Winning items from the boxes are going to be taken to the other country and shared with their students.
Some of the ideas the students had were very interesting and raised a great deal of questions about the country we live in. There were of course some things which cropped up in many of the boxes that students see as very British. The Royal Family, fish and chips, roast dinners, the Union Jack and the pound were all recurring themes.
However there were some deeper responses in many of the boxes. For example Ms Smiths' form included a pack of Chaat Masala in their box. They argued that the inclusion of this was an attempt to recognise that Britain is now a multi-cultural nation where there are many different cultures and creeds living side by side and accepting of each other's values.
Mr Sheldon's form included a collage to represent British people in all their guises. The idea behind this was that it represented the nation as a tolerant society where people are accepting of each others differences and generally speaking get on well together, with mutual respect. They also included an image of the Houses of Parliament to represent that Britain is a fair society where the people are protected by the rule of law and also to highlight the concept of democracy which the students thought was another important British characteristic especially when they see what is going on in other parts of the world.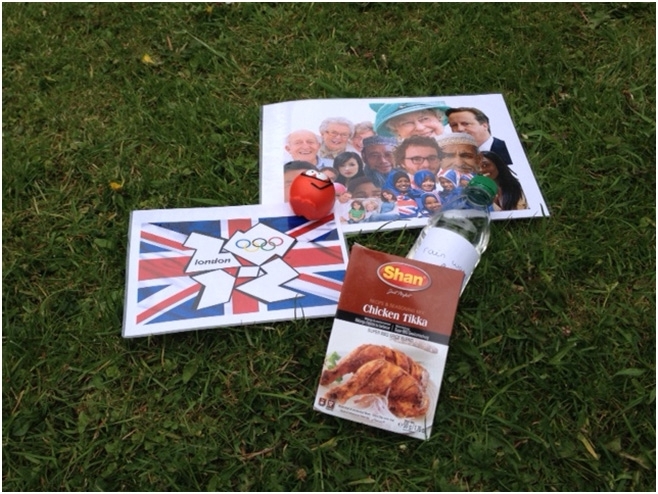 Perhaps the most amusing item in the boxes was a bottle of water. This was there to represent the fact that Britain is an island nation and therefore unfortunately rather wet. I think we can all agree that this is generally true.
Another theme well reflected in many of the Boxes was what a creative nation we are. The literary works of Shakespeare and J K Rowling featured in the boxes as did our musical prowess as represented by the Beatles and erm… One Direction.
It will be very interesting to see what the Indian students have put in their boxes to represent India. Our students put things in their boxes such as the Taj Mahal, Mahatma Ghandi, Bollywood and Sahris. I think most would admit that they actually know very little about the country, which is rapidly growing in world importance. However Miss Ahmadi's form did make the point that there are difintiely more elephants in India than the UK.
The aim over the next few years is to develop projects that will increasingly make the students more globally aware. I shall be reporting back on my visit to India in the next newsletter and will give more details of the projects we have lined up. Students will hear more in a gathering after half-term, where prizes will be awarded from India for the best boxes.
| | |
| --- | --- |
| Most Technically Perfect Box | Ms Smiths' form |
| Most Thought Provoking Box | Mr Sheldon's form |
| Most Creative Box | Miss Tutty's form |